6 QUESTIONS W/ HANNAH SIDER
CREATES: Photography
LIVES: New York City
INSTAGRAMS:@Hannahsider
In short, Hannah Sider is doing it. She's a photographer by trade with an infectious energy who is genuinely a cool person at heart. Hannah's life is fast as anything and I for one love following along as she has made it her business to give sneak peeks into proper parties, secret shows, and exclusive editorial campaigns. She recently shot the A$AP Rocky x Guess collection
backed by creative direction from Rocky himself. Recently, I was lucky enough to slow her down for a few moments to answer Six Questions…
1. Who or what inspires you right now?
Candidly, my friends are what really drives me right now. They're all killing it in their respected fields which is motivating. Um, like off top just to name a few my friend Alix Rutsey is killing at Ssense in Montréal, my girl Kitty Cash, the crew over at KOTN… oh and my girl Sarah Blais! Sarah's a talented photographer working with loads of cool fashion brands. Her and I just got matching tattoo's, she lives in Berlin now we've been friends for nearly a decade. All my other friends are pretty much getting it in too! They only push me to do better.
2. Dead or Alive: Who would you have dinner with? Michael Jordan, because Space Jam is my top 5 movies of all time. I literally watched it three weeks ago on Tv. I just think Hannah and Jordan at dinner together would be hilarious. Not certain if I would actually choose him as a person I'm dying to meet…hmm…new answer! Tupac I'd love meet Pac. I find him so intriguing and unique. I'd love to photograph him.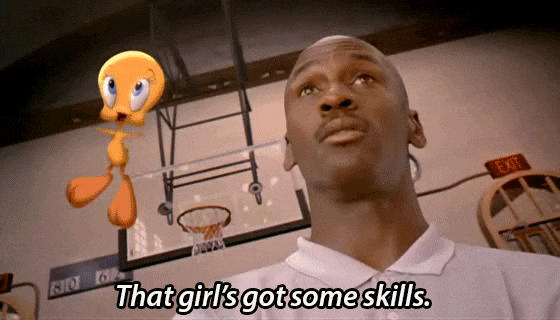 3. Who are six artists in your rotation right now?
Playboi Carti
2 Chainz
21 Savage
Tyler the creator
French Montana
SZA and 6lack are tied for 6th place because I can only listen to sad music for a certain amount of time.
Check out full playlist here.
4. Would you rather travel to the past or future? Definitely the future! Not too far into the future, though, I think a 100 years from now could be very scary, like New York probably be under water or something crazy like that. I'm pretty happy with the present, but I'm interested to see what 5-10 years would look like.
5. What's your favorite staple piece in your wardrobe? Without a doubt my red Balenciaga bag I got a couple months ago. The red is just the right color for an accessory when you wear a lot of black. It's one of the few bags that I saw and liked that could fit all my cameras.
6. What's your go-to camera? I'll grab my CanonAE1 camera if I'm going out to a party or something, its durable and light. But for taking photographs the camera you're shooting with shouldn't make a difference, it's a tool. I always believe it's your eye that makes the shot good or bad not the camera.
THE PLUG!… (Let the readers know what you're up to right now)
I have a couple dope things coming up that I'm feeling euphoric about, but I'm not certain if I can mention them yet. I'll have to double check first, I don't want to jinx it. Other than that, I just shot two Nike Air Max campaigns which I'm extremely stoked about. Check out the Nike Air Society.
**Stay tuned for more 6QS in the near future where we quickly chat with different creative types that we know, like, and/or follow. Also, stay tuned to Hannah to see who and what she captures next.