To celebrate our OMXMTV collaboration with MTV (pre-orders available now), we decided to create a hugely biased and nowhere-near-exhaustive timeline of all the moments where the worlds of fashion and music intersected.
Some entries came from conversations about music videos and record collections, many entries came from Google searches (often leading to Complex 🙏), and a few entries we simply made up just because we're jerks to see if you were paying attention.
Enjoy,
ONEMETH & MTV.
1981
David Bowie releases "Fashion"
Rolling Stone once wrote that David Bowie's fashion transformations changed the world. And while his intersection with fashion famously begins well before this specific moment, our story starts the day MTV launched, on August 1st, 1981.
This appropriately titled video played during MTV's first day on air and presents a complex take on fashion, with Bowie blasting the shallowness of the entire concept while at the same time confessing his unfailing love for it all. Through this video and the surrounding era, Bowie continued to push the concept/style of androgyny and intertwine music and fashion through his continued collaborations with designers like Kansai Yamamoto and Willy Brown.
1981 - Olivia Newton John goes full-lycra in the "Physical" video. This sNSFW video would instantly cement the fashion trope of 80s workout style.
1981 – Grace Jones releases the visually stunning "Nightclubbing" album. Former model turned pop-icon Grace Jones donned a Giorgio Armani jacket in this arresting album art.
1982 – Culture Club pushes androgyny in the "Do You Really Want To Hurt Me" video. Before Boy George was launching Canadian music careers - 36 years to be exact – the British singer further established the theme of androgyny in fashion in videos like this.
1983
Michael Jackson. Thriller jacket.
Cause this is thriller…jacket. An entire gallery could be created for this entry. Arguably this most famous jacket in the world, this garment would itself be woven into pop culture, becoming one of the hottest fashion trends of the entire year decade.
The piece was designed by Deborah Landis, who is not only director John Landis' wife but also the designer of Indian Jones' famous jacket. It sold for $1.8 million in 2011 where it was described as "the greatest piece of rock and roll memorabilia in history".
1984 – Prince debuts his purple jumpsuit at the "Purple Rain" premier. They don't call him "The Purple One" for nothing, the metallic plum jacket and ruffle jacket are almost as infamous as Prince himself…almost.
1985 – Slick Rick namechecks his Bally Shoes in "La di da di." Rappers have a habit of calling out there favourite sneaker brands nowadays, but Rick was one of the first, shouting out his Bally shoes, and rocking a Kangol fwiw.
1985 – Robert Palmer's backup band in "Addicted To Love" video. Might as well face it, Robert Palmer's back up dancers were definitely moving out of sync with Mr. Palmer but the glossy red lips, smoky eyes and the stoic allure of these back up dancers became synonymous with 80's culture.
1986
Run DMC releases the "My Adidas"
While their rock/rap mash up video with Aerosmith would come out a few months later and gain more mass appeal for their laceless shell toes, this song and video would truly change the relationship between music and fashion. This track, produce by Rick Rubin and Russell Simmons, led to the first ever endorsement deal between a musical act and an athletic company.
The partnership reportedly came after the band sent a video to Adidas where they rapped an original verse that ended in them shouting "Give us a million dollars" and would go on to set the stage for fashion/musician endorsement deals…and screaming at people until they give you money.
1986 – Mike D wears a Volkswagen medallion in "Fight For Your Right to Party." Hip Hop artists have worn a lot of "interesting" medallions around the necks in years past, bedazzled Bart Simpsons, iced-out Cereal Boxes, and even diamond studded self-portraits. But few are as simple, random, and iconic as Mike D's Volkswagen medallion in this crazy house party.
1987 – LL Cool J with the Kangol in "I'm Bad" video. Let's be serious, a Kangol is NOT a bucket hat. A Kangol is representative of an entire generation of rap + hip hop culture and a bucket hat just isn't. And Cool James rocked it amongst the earliest in the "I'm Bad" video.
1987
Guns N' Roses defines rock style in "Paradise City"
30+ years later, it's easy to say that GNR's impact on culture has more to do with fashion and style than it does with music. It's possible that this boils down to Axl's absurdly unique sound. But more likely, it's because they created their own form of anti-fashion that informed grunge, inspires contemporaries like Jerry Lorenzo, and simply holds up.
It's hard to pinpoint a specific look, garment, or trend (Slash's top hat doesn't count), which is why the "Paradise City" video acts as a strong crystalizing moment. This video translates the style and feeling of the time, offering a variety of glimpses into the jungle of style that was Guns N' Roses. And for fun, here are 12 things Axl actually wore during their Use Your Illusions tour.
1988 – Biz Markie rocks iron-on Cooper Black DIY letters in "Vapors." Before De La used Cooper Black to spell the "Stakes Iz High" or OFWGKTA put it on everything, Biz immortalized the font in music fashion with his DIY iron-applique hats.

1988 – NWA reps hometown teams in "Straight Outta Compton." Back in the day, N.W.A. was known as the "The World's Most Dangerous Group", and repping a Raiders, Kings or Dodgers cap in 1988 symbolized a certain edge and rebelliousness that was not to be tested.
1988
Dapper Dan reworks Gucci for Eric B and Rakim
On track 4 of Pusha-T's album DAYTONA you'll hear Push boast that he "stood the test of time like Dapper Dan." Rewind 30 years and Eric B is president. Rakim is Allah. And Dapper Dan is, well, he's Dapper Dan, the original auteur of gangster chic through his unique reworking of high fashion.
While most counterfeiters devalue brands by producing 'knockoffs', Dapper Dan was able to elevate high fashion, creating 'knockups' of notable brands like Gucci, Fendi, and Louis Vuitton and dressing the likes of Rakim, Big Daddy Kane, and Michael Tyson. The full story is much fuller, and worth checking out, but the short of it is that Dan is the original auteur of gangster chic, and it's all come full circle as just this year Gucci officially partnered with Dan to open a new Harlem Atelier.
1989 – Janet Jackson goes militant in "Rhythm Nation." Janet's "Rhythm Nation" wasn't just about military style, it was about carving a path that hundreds of female artists have followed since. It was a rallying cry - not just for black women - but for women of any race, class, or gender to be a part of the collective narrative.
1989 – Flava Flav rocks the top hat and necklace in "Fight The Power." Before the hot mess that was Flavor Of Love, Flava Flav was fighting the power and every fashion trend by donning oversized clock bling and regal top hats with streetwear.
1990
Madonna goes global in Jean Paul Gautier's cone corset
On April 13th of 1990, Madonna wore a pink coned corset in Chiba, Japan on the first stop of her Blonde Ambition tour. And people lost. their. shit. The item itself was designed by Jean Paul Gautier, originally for his 1982 Spring/Summer collection, and was later adopted by the queen of pop.
The corset was inspired by vintage brassieres of the 40s, often worn by famous actresses and pinups, and appropriated to evoke a new vision of provocation and sexuality. It also made the act of wearing underwear as outerwear popular normal kinda sorta acceptable.
1990 – George Michaels "Freedom" features all the supermodels. Supermodels were EVERYWHERE in the 90s and George Michael's infamous music video was no exception. Inspired by the now famous image of Naomi Campbell, Linda Evangelista, Tatjana Patitz, Christy Turlington, and Cindy Crawford for the January 1990 Vogue cover, Michael asked the group to bring that vibe to the world of MTV.
1990 – MC Hammer introduces the world to Hammerpants in "Can't Touch This." Dropping in the crotch and tapering in the leg, "Hammer Pants" have likely had more influence on the fashion community than you might think, appearing in prominent fashion shows for the likes of Givenchy and Balenciaga. They might even be making a comeback in 2018. And it all started here, popping up front of what white cyc.
1991 – Nirvana popularizes grunge/plaid in "Smells Like Teen Spirit." Plaid Shirt? ✔Oversized/ripped Vintage Tee Layered with Thermal Long Sleeve?✔ Jeans + Hair that have never been washed? ✔ Sad teenage disposition? ✔ Before emo was even close to being a thing, there was grunge and although the iconic uniform wasn't fully present in "Smells Like Teen Spirit" this is where it really kicked off.
1991 – Michael Jackson partners with L.A. Gear. One of the first ever musician/sportswear endorsement deals that, sadly, didn't hit too hard and resulted in a thirty-million-dollar lawsuit, plus the decline of the shoe company.
1991
The Fresh Prince kicks off Cross Colours
If you didn't watch The Fresh Prince of Bel Air, you can eff right off. We can say that because…every human ever watched The Fresh Prince. Right? And one of the best parts of the show, beyond the fly handshakes, the crazy cameos, or all the feels (how come he didn't want him?), is the fashion.
It's true that Will's looks were almost always anchored by a pair of Nikes, but in terms of the musicians' impact on fashion, the biggest contribution was helping launch the brand Cross Colours, which in turn helped spark an entire new category of streetwear that's success paralleled the rising popularity of hip hop in general.
1992 – Marc Jacobs designs "Grunge" collection for Perry Ellis. Often referred to as "a collection before its time", Jacobs reinterpreted and mimicked the Seattle music scenes $11 thrift budget with oversized silk shirts and billowy chiffon dresses that had the fashion community up in arms about the dank teen spirit infiltrating the high-end runways.
1992 – Mike D of the Beastie Boys helps start X-Large. Mike D was really good at taking your grandpas golfing attire and turning the visors, and oversized pants into the pinnacle of B-Boy culture.
1992 – Kriss Kross introduce their backwards style in "Jump" video. Crazy kids, wearing their damn clothes backwards. As ridiculous as this trend may seem, it helped to solidify the popularity of Kriss Kross and pushed their record to multi-platinum, all anchored by this oh-so-90s video.
1992 - House of Pain reps hometown sports style in "Jump Around." Truth #1245: It's all about your personal brand. Repping Celtics jerseys helped House of Pain to brand themselves as the Irish Hooligans they always wanted to be, which also helped them to tour with some of the world's biggest alt-rock bands.
1992 – Mary J Blige + Grand Puba rocks Hilfiger on Yo! MTV Raps. Hilfiger and Hip Hop go together like Kelly and Dylan. And the man that sparked the love affair was Brand Nubian's Grand Puba, most notably live on Yo! MTV Raps when he name-checked the sportswear brand and introduced a generation to Tommy.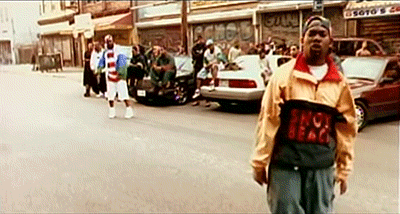 1994
Raekwon in that POLO Snow Beach in "Can't It Be All So Simple"
POLO started off on the island, AKA Shaolin. If you want to get technical, it actually started in Manhattan, by Ralph Lauren. And more specifically, it was ushered into the music world via Thirsten Howl and the Lo Lifes in the mid-to-late 80s. That entire story was unfolded by Complex in there documentary Horse Power, but for us, it's all about the Wu.
As for pinpointing a moment – and a garment – to represent this blending leads to Raekwon's infamous Snow Beach pullover, worn in the Hype Williams-directed video for "Can't It Be All So Simple." This jacket would become streetwear's holy grail, fetching upwards of $3,000 in resales and inspiring Ralph to re-issue the collection a few months ago this year.
1995 – LL Cool J rolls up one pant leg in "Hey Lover." Commonly seen on cyclists who don't want to get their pant leg caught in their bike chains, rolling one pant leg up was a trend that personified this hip-hop era.
1995 – Q-Tip's verse in Mobb Deep's "Drink Away The Pain." A smaller blip on the timeline, surely. But a good one. Tip doesn't always get the love he deserves for shaping Mobb Deep's sound, but everyone knows his fashion-fueled verse on their infamous golden-era classic.
1996 – Tupac models for Versace in Milan. Pac paved the way for the likes of A$AP Rocky and Travi$ Scott by walking the Versace runway in Milan in an all-gold suit.
1996 – De La Soul gets sick of Versace in "Stakes Iz High." And here we De La's conscious crack at pretty much everything else going on in this timeline as we hear "sick of bitches shakin' asses / sick of Versace glasses / sick of slang / sick of half-assed award shows / sick of name-brand clothes" introduced by Mauri Povich and deftly laid over J Dilla's finest.
1996
Biggie Hypnotizes in full Versace
This video and this moment in time would end up being sacred. More so to music than fashion. But still. This single would skyrocket to #1 in the charts and also end up being the last for The Greatest Rapper of All Time. And this single is absolutely dripping in Versace, most notably the sweater and glasses.
Beyond the look, Big also blesses a name-check in the second verse, and while his shout out in the "One More Chance" remix one year earlier may have had equal or greater impact on the hip hop community's relationship with the fashion label, the global success of "Hypnotize" makes this a more memorable moment in the music/fashion saga.
1996 – Aaliyah becomes the face of Tommy Hilfiger. Another breakthrough moment for celebrity endorsements here as Aaliyah made wearing men's clothing sexy + fun + classic.
1997- Missy Elliot with the Big Black Bubble Suit in "The Rain (Supa Dupa Fly)." The boldest statement in music video fashion. Period.
1997 – Puffy and Mase rock goggles in "Mo Money Mo Problems." You can't create iconic cultural trends unless you take some risks and that's exactly what the flamboyant Bad Boy style was all about. Even if this risk was entirely based on equipment designed for safety.
1997 – LL Cool J trojan-horses a FUBU hat in a Gap Ad. When LL "accidentally" wore a FUBU hat in an ad for Gap, executives were furious but sales for FUBU soared, inadvertently making the brand the first rapper-endorsed streetwear company.
1999
Rocawear launches backed by Jay-Z and Damon Dash
Sure, other musicians had been involved in clothing lines, like Russell Simmons with FUBU and Mike D with X-Large, but never before had the musicians been the clothing line. And never before was the line named after the studio. This was different. This was Jay-Z. And this was everywhere.
Rocawear would spread quick in hip hop and beyond, making shoes, belts, and bags, eventually being sold for $204 million back in 2007. The crazy thing (beyond the powder-blue matching tracksuits) is that the brand is still very much a thing with a fairly massive global presence.
1999 – Lil Kim wears a nipple pasty at the MTV VMAs. One word for one pasty: Iconic.
1999 – Britney Spears schoolgirl in "Baby, One More Time." The schoolgirl outfit to end all schoolgirl outfits. Brit's defining moment has become a universally known moment in fashion + music history.
1999 – Jay Z rocks the Yankee hat in "Do It Again." Shit, he can make a Yankee hat more famous than a Yankee can. Cue Alicia Keys.
2000 – J-Lo wears that Versace dress. Just look.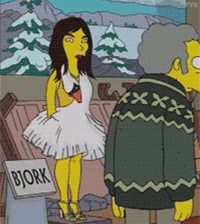 2001
Bjork wears a swan to the Oscars. Long before steak dresses were the plat du jour, the Icelandic songstress Bjork donned a now-famous swan dress to the Academy Awards. The look was designed by Marjan Pejowski and would end up being named one of the most memorable red-carpet moments of all time.
The famous swan dress was almost universally ridiculed when first introduced, but Bjork wore it multiple times, including on her album cover, and would later see the piece honoured at MoMA and eventually re-imagined on the runway by Valentino Couture.
2001 – Mary J Blige and Andrea Bocelli are the first musicians to perform at a Victoria Secret show. An odd pairing but Mary J Blige and Andrea Bocelli make history by becoming the first musicians to perform at the VS show (with their clothes on FYI).
2001 – Ja Rule and Ashanti wear all the Burberry in "Always On Time." Rappers have a long history of shouting out this luxurious British label and Ja Rule is no exception when his car breaks down in the "Always On Time" music video. Side note: Remember when Ja Rule performed "I'm Real" with Jennifer Lopez wearing a Burberry hat sans shirt? Classic.
2001 - Britney Spears and Justin Timberlake wear the all jean look at the AMAs. Never forget.
2002 – Maison Kitsune launches in Paris as a record label and fashion line. A Parisian contemporary fashion brand and music label that founded by creative duo Gildas Loaëc, previously the manager for Daft Punk, and architect Masaya Kuroki.
2002 – Nelly drops "Air Force Ones" video. Fun Fact: MTV2 + VH1 actually banned this music video in 2003, due to excessive product placement.
2003
Jay Z releases the Reebok S. Carter
This might have been the moment when you said "wait, a rapper has a shoe?" It totally might not have been, but either way, in 2003, well before Nike Air went Yeezy but after Reebok failed to land a LeBron or Carmelo, the shoe company decided to pivot toward music. Toward Hova.
The actual shoes were inspired by a 1984 Gucci tennis shoe, with each pair being coupled with a compact disc of exclusive Jay-Z music. And as for the moment, it does feel connected to Run DMC's Adidas move, and MJ's L.A. Gear deal, but it goes a step beyond and truly was the first fashion-meets-music endorsement of its kind.
2003 – OutKast goes retro pop in "Hey Ya." In this now-ubiquitous pop crossover hit, André 3000 dons a royal green retro vibe that was a real u-turn from the era's more driven lanes of fashion.
2003 – Avril Lavigne and her collarless necktie in "Complicated." Napanee's finest proved that neckties can go with pretty work in any and all occasions, from a mall food court to a couch in a skatepark.
2004 – Kanye West rocks a Polo Bear sweater on MTV's TRL. A far cuter Ye than say, the Yeezus years.
2004 – Gwen Stefani introduces her 'Harajuku girls' in "What You Waiting For" video. Although now seen as maybe-sorta-super racist, Stefani embraced and expanded the global reach of this Japanese youth culture movement.
2004 – Cam'ron goes all pink in "Hey Ma." All. Pink. Everything. Cam's all pink look in "Hey Ma" was easy like Sunday morning.
2005
Supreme revisits Joy Division's "Unknown Pleasures" album art
It's hard to pick a Supreme-meets-music moment to stand for the brand. It's also hard to imagine we're only picking one of these 10+ years into the brand's existence. But here we are.
For many a today-person, the names Peter Saville and even Joy Division may not mean that much. But the accompanying visual should ring a visual bell as the artwork has breezily transitioned from the depths of British new wave music to the shelves of Urban Outfitters, stopping along the way on the streetwear side of things thanks to the hypest of all beasts, Supreme.
2006 – Meg White models for Marc Jacobs ad campaign. Shot by Juergen Teller, we're STILL into this quirky + retro campaign aesthetic featuring Mystery Meg.
2006 – Lil Wayne with the Bape in "Hustler Muzik" video. Young Weezy helped to bring this underground brand into the mainstream, rocking it in this video and on the cover of VIBE that same year.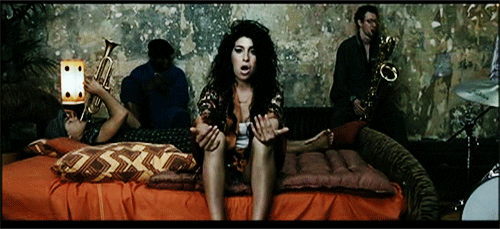 2007 – Amy Winehouse goes heroin chic in "Rehab" video. That beehive hair, the winged eyeliner, the white tank + kimono combo. Winehouse was a true original in music + fashion.
2007- Kanye West in shutter sunglasses in "Stronger" music video. Before these were a gas station sunglass rack staple, Mr. West rocked these not-so-practical, literal shades in his "Stronger" music video.
2008 – Ghostface Killah releases "Wallabee Champ" album. To date we've had plenty of songs titled after clothing items and brands, but back in 08 Pretty Tony went full album with a shout out to the Clarks Originals shoe that his clan had been rocking since 93.
2009
Kanye West + Nike release the Air Yeezy
From 2006 to 2009, Mr. West had collab'd with Bape on one shoe and Louis Vuitton for three. But the Nike Air Yeezy 1 is when Yeezy did jump over Jumpman. The shoe was designed in partnership with Nike Creative Director Mark Smith and would drop in 3 unique colourways, each featuring a glow-in-the-dark sole.
Impact wise, this intersection of fashion and music did two noteworthy things. It sparked a massive shift in the re-sale game, starting to push pricing instantly over the $1,000 mark, and it set Yeezy season in motion.
2009 – Madonna models for Louis Vuitton under Marc Jacobs' direction. The American fashion designer continues to make a significant impact on the fashion community's relationship within major music milestones.
2009 - Lady Gaga in Alexander McQueen's Armadillo Shoes in the "Bad Romance" video. Although impossible to walk in, Lady Gaga helped to spread the mastery of Alexander McQueen to the far corners of the world by repping these Armadillo heels in this video that also featured a lot of product placement and Dr. Evil's cat.
2010 – Kanye West Good Fridays album art by Virgil Abloh. Good Fridays left a mark in more than a few ways. Virgil's minimal red type may be the standout, but the overlaid visuals of models and the hyper-dense fashion references in the songs ("Christian Dior Denim Flow" for one) helped further realize the relationship between hip hop and high fashion.
2010 – Lady Gaga wears that meat dress at the MTV Music Awards. Arriving at the MTV Music Awards donning a forty-pound dress made of meat, Gaga wanted to make a statement about "not being treated like a piece of meat". The dress now resides as a giant piece of jerky inside the Rock and Roll Hall of Fame.
2011
Jay & Ye release the fashion-infused "Watch The Throne" album
Watch The Throne brought us lots. It brought forward that stripped-down sampling sound. It brought out the idea that you can play the same song 13 times in a row (only 3 times in Toronto IIRC), and it brought out a lot of fashion.
From Louis and Gucci to Hublot and Rolex, the tandem continued their intertwining of hip hop and high fashion, epitomized in the albums opulent artwork that was designed by Givency's Riccardo Tisci and art directed by Virgil Abloh.
2012 – Jean Paul Gaultier releases a collection inspired by Amy Winehouse. Coming just six months after the singer's death, the show faced some major criticism as Gaultier looked to honour Winehouse as the "icon in fashion" that she truly was.
2013 – Miley Cyrus releases "23." Not only is the song literally about wearing Jordans (and getting high of purp, in the club, naturally), the video is littered with 90s nostalgia and several reworks of iconic Chicago Bulls jerseys.
2013 – Stussy collaborates with Yo! MTV Raps. Before hip hop went full skrrt skrrt, Stussy took it back to the golden era with simple-yet-iconic imagery including the likes of Slick Rick, Gang Starr, and that unmistakable Yo! MTV Raps logo.
2013 – A$AP Rocky releases "Fashion Killa" video directed by Virgil Abloh.
Now the creative director for Louis Vuitton's menswear, Abloh takes viewers on a shopping excursion with Rock + former tour-mate, Rihanna in this lookbook-like video.
2014
Canada Goose partners with OVO For Aubrey's first entry we look to the third time he got down with Canada Goose. The first 2 were certainly proper moments between music and fashion, but for round 3 Drake had just established himself as one-of-if-not-the hottest musician on the planet, right around the same time that the iconic Canadian jacket company sold to a large American corporation and took the brand global.
The collab itself featured an updated take on the Chilliwack Parka and an accompanying vest, each adorned in a pixelated greyscale camo, Drake's very own signature owl, and a classic bomber-jacket-orange interior.
2015 – Supreme collabs with Neil Young for a photo tee. One of the more unanticipated drops in the Supreme celebrity tee series, it's admirable that the streetwear monster selected a Toronto-bred idol that doesn't exactly fit into the brand's usual demographic.
2015 – Drake releases "Jumpman." Because Michael Jordan.
2015 – Kanye West and Adidas release Yeezy Season 1. After the Nike fallout, Kanye emerged with Yeezy Season 1 and it was EVERYTHING. Neutral palettes + a military foundation with an overarching dystopian theme are only a few of the reasons that this changed the game for Kanye, and music/fashion.
2016
Drake enlists Philip Pagowski for his "Views From The 6" album launch
Going back 2 back with big Drake entries here as the musician eyed COMME des GARÇON designer Philip Pagowski to help design artwork for the launch of his 4th album.
The ensuing designs would harken back to Philip's iconic PLAY logo (that heart with those eyes). And the accompanying campaign would see ominous examples of the collaboration draped across the city in preparation for what would end up being the second biggest album of the year (Adele took the W with "Hello" that year).
2016 – Kanye's Life Of Pablo tour merch is a thing. Vintage concert tees have always been a thing, but Kanye's Life of Pablo tour merch, designed by Cali Thornhill DeWitt, drew insane crowds, and insane dollars (Gildan blanks??) at 21 pop-up shops around the world.
2016 – Rihanna wears a Hood By Air shirt to open the MTV VMAs. RiRi stepped out to perform at the VMAs in cotton candy-colour Hood By Air, showing that streetwear can have a tough but sweet side.
2016 – Kanye's "Wolves" video doubles as a promo for Balmain's Fall 2016 collection. Ye moved from controversy ("Famous") to commerce in this star-studded (Cindy Crawford!) lookbook video that makes other lookbook videos look like terrible lookbook videos.
2017
Supreme X LV collabo w/ Lady Gaga etc… In early 2017, Supreme and Louis Vuitton teased a collaboration. In the spring, thousands and thousands of people lined up all over the world. And shortly after, hoodies were being resold for more than $6,000 above the sticker price.
On this surface this might simply be a what-the-eff-is-wrong-with-us moment in fashion, mostly void of any musical involvement. But with a little digging Googling, it's clear that the there was a calculated connection to music, with the brands' clothing and Instagram handles finding their way into posts from Lady Gaga, Justin Bieber, Madonna, Drake and beyond. And by "beyond" we mean Celine Dion.
2017 – A$AP Mob releases "Raf." To this point hip hop had honoured fashion brand and fashion items in their song titles. But Rocky goes one step beyond, titling this song after the Belgian fashion designer and current creative director for Calvin Klein.
2017 – Lil Pump repeats "Gucci Gang" one or two times. This song is terrible. But it warrants mentioning because it is quite unlike the majority of the contextual consumerism on this list. And because of SNL's "Tucci Gang" parody. And because it's emblematic of where we're at. But mostly that SNL thing.
2018
ONEMETH Goods creates OMXMTV collection with MTV.
We'd hate for this post to run long, so we'll just say that for SS18 we've collaborated with MTV to produce a collection that blends our signature Toronto made goods with the iconic music brand's storied past. More details and pre-orders over here.